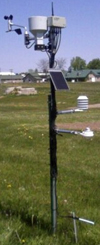 WIN offers a full suite of Adcon systems, based around highly precise weather stations with sensors measuring temperature, precipitation, soil moisture, relative humidity and other agriculturally significant factors.

Wireless, solar-powered remote telemetry units can transmit data to users at near-real-time, enabling immediate decisions regarding irrigation, crop protection application or fertilization.

Networking options include short- and long-range radio, cellular and satellite communications. Sizes range from a few units on a farm to hundreds spread across provinces.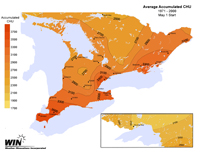 In addition to supplying clients with quality-controlled weather and environmental data, WIN provides a wide variety of value-added interpretive and interpolative services such as:

Detailed maps of agricultural data (CHU, GGD, etc)
Management and automation of irrigation systems, grain storage bins and vineyard infrastructure
Disease forecasts, insect advisories, crop development predictions and more
WIN collaborates with academic institutions and private companies, spearheading research and development of new environmental and agricultural technologies.